2021-2022 Back-to-School Information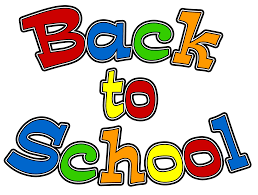 ---
Back-to-School Information
Dress Code Reminders
Please see 2021-2022 uniform and dress code information (school web page). Please note that primary or dominant colors for tennis shoes and shoelaces should be red, white, navy, royal blue, gray, or black.
2021-2022 Student School Supplies
1. Basic school supplies for K3-12th grade students will be purchased by the school and will be in your child's classroom for him/her on the first day of school. (Crayons, colored pencils, markers, glue, scissors, rulers, folders, art paper, binders, notebooks, etc.)
2. K3-3rd grade students should not purchase book bags for school use. (Book bags are included in supplies purchased for K3-3rd students and Happi-Nappi rest mats are provided for K3 and K4 students.)
3. 1st-8th grade students should have a mechanical or electric pencil sharpener (to use at home).
4. The following "extras" will need to be purchased by students for the first day of school.
• Several sharpened #2 pencils (grades 1-12)
• Wide-ruled looseleaf notebook paper (grades 2-12)
5. Teachers in upper grades will notify their students of any other special needs after school begins.
Physical Permits for ALL 5th-12th Grade Students
Please remember that physical forms for 5th-12th grade students (available on our website) must be completed and returned to school before a student may participate in any school athletic practice or PE activity. All 5th-12th students (not just student athletes)must have up-to date physical forms returned to school no later than the first regular day of school, August 9.
Special Reminder to Kindergarten and 7th Grade Parents
(Mail or put in dropbox of central office by August 2, 2021)
1. Up-to-date Immunization Record (Be sure to check on any new requirements.)
2. Birth Certificate (for all K3, K4, and new K5 students)